Oorah's Newly Released Shmorg Ready to Ship!
PAID ADVERTISEMENT
This post will be on the top of the page throughout the day, new posts will be posted below.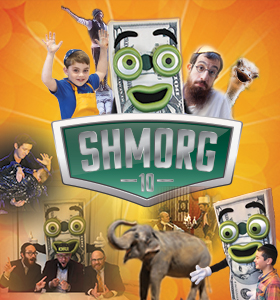 Oorah's new Shmorg 10 is now ready to ship! The Shmorg is a classic among kids and adults of all ages and features lots of great content with over 4 hours of kosher entertainment!
Fiveish, everyone's favorite character, plays a big role on this year's better-than-ever Shmorg. Fiveish is the star of the show in Fiveish and Friends, The Great Cupcake Bake-off, and the Fiveish Magic Show. It's not just about Fiveish though, The Oy Factor with Mendy Pellin will have you laughing, About Judges and Judgement will leave you spellbound, and you'll be fascinated with this year's Animals in the Talmud. There's lots more entertainment on the Shmorg, so get yours now just in time for the pre-Pesach rush. Get your Shmorg FREE with your $50 donation to the Oorah Auction!
Watch the trailer for a sneak peek of what the Shmorg is all about. Watch here: www.oorahauction.org/shmorg