Amazon: Download Free Kindle Book – How To Remove All Negative Items From Your Credit Report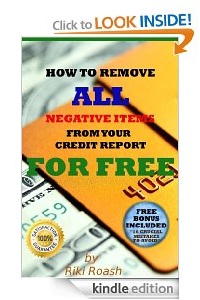 Amazon is offering a free Kindle download of the book "How to Remove ALL Negative Items from your Credit Report".
Even if you dont have a kindle you can download and read Kindle books on your PC, iPhone, Android or tablet with Kindle's free reading apps. You can click here to download a free Kindle reading app for your device.
No more paying top dollar to attorneys and credit repair companies. The secrets are revealed. This book will teach you the incredibly easy process the professionals are using and charging thousands for. A simple step-by-step guide to remove all derogatory items on your credit reports, even if they do belong to you!
Its based on her 18 years of most successful experience for removing all negative derogatory items from her and her clients credit report.