No Comments
July 14, 2014 at 11:28 amCategory:COUPONS | FREEBIES | SHOP RITE
Print this coupon now, before they run out of prints.
There is a new $0.50 off any Luigis Real Italian Ice product printable coupon available. Don't forget that this coupon doubles in stores like ShopRite & PathMark except in the city (click here for more info about doubled coupons).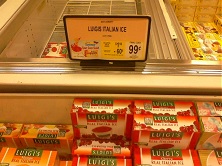 Shop has the Luigis Real Italian Ice on sale this week for for 99¢ making it Free after the coupon doubles!