2 Comments
May 15, 2016 at 11:34 amCategory:TARGET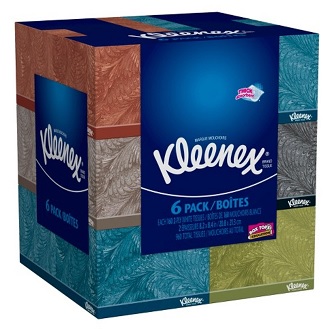 UPDATE: Dead!

Target has the 6-Pack Kleenex Tissues (160 count boxes) for $8.49, plus save 20% when you sign up to a subscription (similar to Amazon's Subscribe & Save) to bring the price down to only $6.79 + Free shipping.
Plus if you buy 2 packs (that means you'll get 12 boxes of tissue) you will also get a $5 Target gift card.
So your total will be $13.58 Shipped + you'll get the $5 Target Gift Card making it to be like $8.58 (just 71.5¢ per box) after counting in getting the gift card!
Use your Target RedCard to save an additional 5% off.
To use Target's subscription, click/check off the "subscribe for 20% off" then the red button will change and say "subscribe", when clicking that button it will just add your subscription to your cart and you will check out.
Remember – After your order ships just go into your account and cancel your subscription to avoid getting any other shipments at future prices!