2 Comments
July 21, 2014 at 11:46 amCategory:BABY | TARGET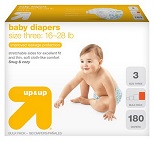 If you use Targets brand Up & Up diapers, they are on sale this week for $24.99, and if you buy 2 boxes you will get a $10 Target gift card (like getting 2 boxes for $39.98 after gift card).
Plus you can add a filler item, like this 2-pocket folder for 50¢ to bring your total over $50 to get free shipping.
Use your Target RedCard to get free shipping and save an additional 5%, that means your total will be $47.48 which is like only $37.48 after getting the gift card!
Thanks Esther