FedEx Is Giving Away $25 Gift Cards To 40,000 Winners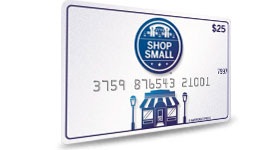 November 24th is Small Business Saturday and to show their support for small businesses FedEx is giving away $1,000,000 in $25 American Express Shop Small Gift Cards, that's 40,000 gift cards (these gift cards can be used anywhere Amex is accepted).
Last year they gave it away first come first serve and it was a disaster, there was thousands of people trying at once and the page kept on crashing, so this year they are letting everyone enter through November 3, and they will pick 40,000 winners. If you are a winner they will email you within 10 business days.
You should also know that last year the opening day to register your Amex credit card for Small Business Saturday was November first, so stay tuned and Ill let you all know if and when it happens today.