Jos A Bank: 50% Off 1st Item, 60% Off 2nd Item, 70% Off 3rd Item + $20 Off $100 + Free Shipping On All Orders (Only $28 A Traveler Wrinkle-Free Shirt)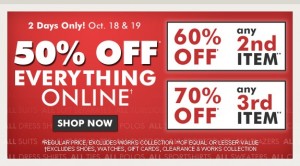 Through tomorrow (10/19) Jos. A. Bank is offering 50% off sitewide of your first item purchased, 60% off the second item and 70% off the third item. Plus, all orders qualify for free shipping.
Plus use coupon code: RMNCANADA20 to save $20 off a purchase of $100 or more. Add the code to in the box for promotion code 1 (it will not work if you enter it by promo 2).
Add 3 Traveler Wrinkle-Free Dress Shirts to your cart – $105
Save $20 with coupon code: RMNCANADA20 – $85
(Shipping is FREE)
Total: $85
That means you can get 3 Traveler Wrinkle-Free White Dress Shirts for only $28.33 a shirt shipped to your door.
The Traveler Wrinkle-Free Dress Shirt collection is rated "Best Overall" Wrinkle-Free Dress Shirts by the Wall Street Journal.