Last Chance To Win $25,000
Sponsored Post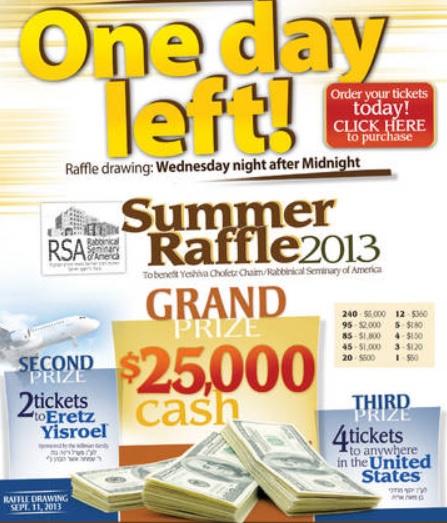 Today is the last day to enter the Yeshiva Chofetz Chaim Summer raffle, as the winner will be picked tonight. The grand prize winner will win $25,000, second place wins 2 round-trip flights to Eretz Yisroel, and the third prize winner gets 4 round-trip flights to anywhere in the US!
Click HERE for more information.
For 80 years, the Rabbinical Seminary of America – Yeshiva Chofetz Chaim has provided a Torah education of the highest caliber, while preparing young men for a life of Jewish leadership. With 90% of its rabbinic graduates entering communal service, RSA is at the forefront of a Torah renaissance, touching more than 100 communities in the United States alone. Rabbonim, principals, teachers and outreach workers are revitalizing Jewish life on this continent and beyond, and the demand for qualified graduates continues to grow.