New $1 Printable Coupon For 7UP TEN, Canada Dry TEN Sunkist TEN Soda = Free Bottle AT ShopRite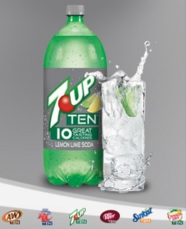 There is a new coupon available for $1 off a 2-liter bottle of 7UP TEN, Sunkist TEN, Canada Dry TEN, A&W TEN Dr. Pepper TEN or RC TEN. To get this coupon you will have to share the coupon either via Facebook, Twitter or Pinterest, if you dont want to share you can just print a coupon for 25¢ and this coupon doubles to 50¢ off in stores like ShopRite & PathMark except in the city (click here for more info about doubled coupons).
Shop Rite has 7UP TEN, Sunkist TEN, Canada Dry TEN, A&W TEN on sale this week on sale for 79¢, so if you get the $1 coupon it will be Free, or just 29¢ if you will be using the the 25¢ coupon!
Click here for coupon (the coupon will say "available at Walmart but is a regular manufactures coupon that can be used at any store, I have never had a problem).