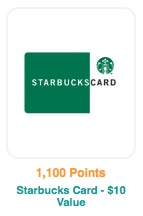 UPDATE: All Gone!
For all of you that are waiting to cash out on you Pampers Gifts To Grow points, Pampers Gifts To Grow has added a $10 Starbucks gift card to their reward catalog for 1,100 GTG points.
Click here to view reward catalog.
If you are following KollelBudget and use all the free codes I post here you should have over 1,100 (that's without using the codes you actually get with the pampers products) and be able to get this gift card.

______
If you don't have a Pampers Gift To Grow account click here on this special link to sign up and get 100 bonus points + Click here for a list of codes to ad over 200 points to your account.