Available Again – Free Bottle Of 5-hour ENERGY
July 3, 2012
Comments Off

on Available Again – Free Bottle Of 5-hour ENERGY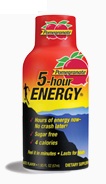 This freebie is available once again so if you have not requested one before you can do so now. I already received my free bottle of  5-hour ENERGY that I requested a while back, and it has a Star-K on the bottle.

Click here to get a free sample of 5-hour ENERGY (a $2.99 value), hurry these went very fast the last time they were offered.
5-hour ENERGY received its kosher certification from Star-K in November 2010, just make sure it hast the hashgacha on the bottle.