Garmin Nuvi 2555LMT – 5 Inch With Lifetime Maps & Traffic Only $89.99 + Free Shipping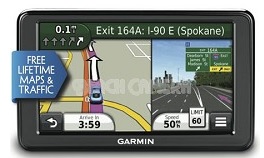 UPDATE: BuyDig lowered the price of the Garmin 2555LMT by $2 to $109.99, so now it will be just $89.99 after the coupon!
_______
BuyDig is offering $20 off a purchase of $100 or more at BuyDig when using coupon code: VMEVDAY20 and checking out using V.me.
Although V.me is an online payment service (like PayPal) from Visa, you can also use MasterCard or American Express cards as a method of payment.
BuyDig has the Garmin nuvi 2555LMT, 5 inch GPS with lifetime maps and traffic priced at $112 + Free shipping, and only $92 after the above coupon (Amazon currently has it fr $119.99)!
Fast routing and map displays.
Garmin 3D traffic – subscription-free, extensive, live traffic service that combines trafficTrends, current traffic and predictive traffic to provide re-route options, identify impending traffic backups, incidents and even traffic cameras.
Lane assist with Garmin photoReal junction view – guides you to the correct lane for an approaching turn or exit and displays digitized, high quality photos (more than 58 thousand images) of the actual upcoming junction in incredible detail and even down to trees and pylons!
Exit services – know what you'll find when you exit the highway.
See and select businesses on map (no need to page through menus).
Garmin Locate automatically marks your position when you remove it from the windshield mount, so you can navigate with nuvi on foot and find your way back to your vehicle.
Displays speed limits for most major roads.
Access over 8 million points of interest and see branded icons on the map as you navigate.
Voice prompted turn-by-turn directions that speak street names to your destination – "Turn right on Main Street".
MicroSD card slot for optional plug-in mapping.
BuyDig only charges sales Tax in N.J.