December 8, 2017 at 10:37 amCategory:Home/Garden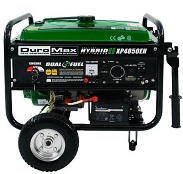 Get the DuroMax XP4850EH Hybrid Portable Dual Fuel Propane / Gas Camping RV Generator for just $299.99 + Free shipping as one of todays Ebay Daily Deals.
Powerful: Powerful DuroMax 7 HP Engine is able to accept high wattage loads with ease.
Functionality: This Generator has endless uses; from Home Standby Power, Jobsites to a Weekend with the RV.
Flexibility: XP4850EH can operate with either Propane or Gasoline.
Safety: Equipped with Low Oil Protection, AC & DC Regulators, and a Spark Arrestor, Your unit will remain safe and in top operating condition.
Ease Of Use: The unit was designed to allow anyone to start & operate. All models are available with Electric & Recoil Start.
Electric Start: As simple as turning on your car – if the battery is discharged simply use the 1-pull recoil cord to start the generator.
Knowledgeable Service Dept: Our Friendly Technicians know these units inside and out. Have a Technical Question? Give them a call and they will be glad to help you out.
Peace of Mind: Rest assured, your buying a quality unit at a low price from one of the largest Generator Sellers on eBay. We meet and exceed strict eBay standards while having the feedback that speaks volumes about these units.
DuroMax XP4850EH Hybrid Portable Dual Fuel Propane / Gas Camping RV Generator