Mission:Siyum – A Historic Celebration of Shuvu's 30th Anniversary
January 31, 2021
Comments Off

on Mission:Siyum – A Historic Celebration of Shuvu's 30th Anniversary
PAID ADVERTISEMENT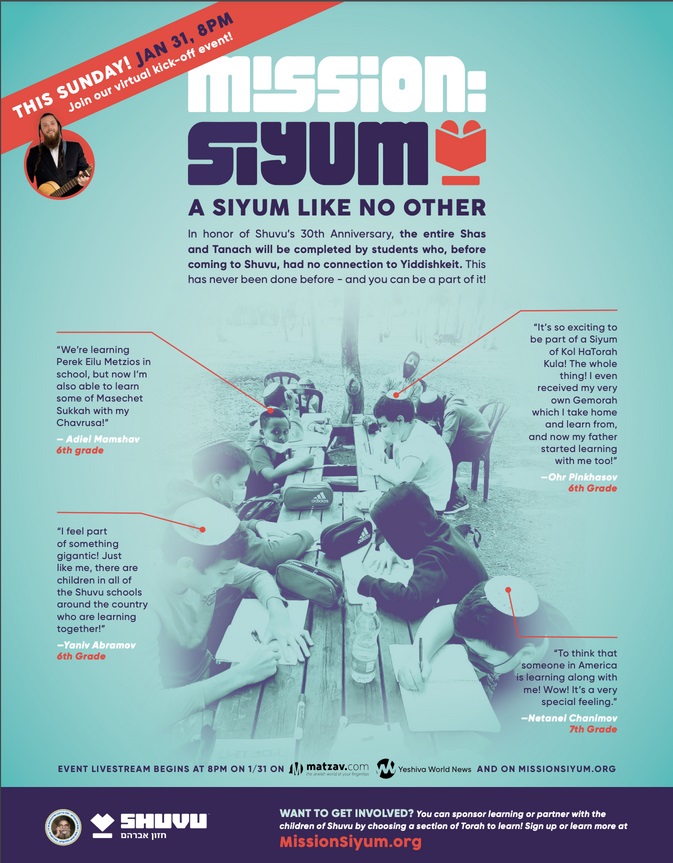 It is a mission about to launch, one that will reach the highest celestial heights, though it will have nothing to do with NASA or space travel.  Instead, Mission:Siyum will have Shuvu students and graduates taking on all of Tanach and Shas in an epic campaign marking the organization's 30th anniversary.
Shuvu was established in 1991 when it became abundantly clear that the multitudes of immigrant children streaming into Israel from behind the Iron Curtain were desperately in need of the Jewish education that had been denied them in the Former Soviet Union. Founded at the urging of Moreinu HaRav Avraham Pam zt"l, Shuvu stepped in to fill the gaps in their schooling, providing them with a high quality Jewish and secular education while simultaneously reconnecting them with the religious roots that had nearly been severed by the Communist regime.  Since that time Shuvu has experienced exponential growth, and it currently has an annual budget of $27 million that funds 77 schools and after school programs and 15 summer camps, with 15,000 students and family members reached annually, and 500 bar and bas mitzvahs celebrated each year.
Having spent three decades steering children from non-religious homes to lives of Torah and yiddishkeit, it was only fitting for Shuvu to mark its 30th anniversary in a big way.  Since the idea to have Shuvu's children and alumni committing to learn the entire Tanach and all of Shas over just a few months seemed like an overly ambitious goal, organizers of the project, dubbed Mission:Siyum, hoped that their current and former students could cover perhaps half of the material, the rest to be completed by overseas Shuvu supporters.  Instead, Mission:Siyum was eagerly embraced by the Shuvu community in Israel, with students, parents, avreichim and graduates signing up in droves, committing to learn every perek of Tanach and every masechta of Shas.
Shuvu graduate Libby Wallach will be learning all of Sefer Iyov together with her husband, who also signed up for 20 blatt of Gemara.
"This is an opportunity to repay just some of the hakaras hatov I have to Shuvu," said Wallach.  "My olam hazeh and my olam haba are all thanks to Shuvu."
Meira Grossman and her husband Mayer both volunteered to learn for Mission:Siyum, known in Israel as Atara L'Melech, named after HaRav Pam's sefer on Chumash.  Meira became well known in the Shuvu family when, as a teenager, she went to her teacher's home for a Friday night seuda and respectfully informed her parents that she could not travel home with them in the family car, instead making the more than an hour long trip home on foot as her parents drove home slowly by her side.  While Mayer Grossman will be learning 30 blatt in maseches Kiddushin in appreciation for Shuvu gifting him with the ability to build a home saturated with kedusha, Meira will be learning Sefer Zecharya.
"Zecharya prophesizes about yemos hamoshiach and our family is a living example of this special time," explained Meira.  "I am an only child to secular parents and they were zoche to have grandchildren learning Gemara and Mishnayos and shteiging in yiddishkeit."
And with Purim just weeks away, Avigail Molcho, a seminary student in Ofakim, signed up to learn Megilas Esther.
"Over the years, with many challenges and nisyonos, Esther Hamalka was a role model for me," said Avigail.  "At times when I was the only one at home keeping Shabbos or eating kosher, I felt that I was able to identify with Esther in Achashveirosh's palace."
Given the overwhelming response to Mission:Siyum in Israel, Shuvu reframed the project to have the entire Tanach and Shas learned both by members of the Shuvu Israel family and partners in America and Europe.
Mission:Siyum will kick off in the United States on Sunday, January 31st with a livestreamed event that will feature the music of Joey Newcomb, a trivia game hosted by Night Seder America's Rabbi Ari Schonfeld, words of chizuk from Rabbi Ephraim Eliyahu Shapiro, and divrei bracha from HaRav Reuven Feinstein, HaRav Yisroel Meir Lau and HaRav Elya Brudny.   The livestream, which will be available at 8 PM on the Mission:Siyum website, Matzav and Yeshiva World News, will also highlight Shuvu students sharing their stories and how much learning Torah means to them.
Mission:Siyum has already begun in Israel at ten Shuvu schools, with another six expected to join the program over the next two weeks.  Every boy who signed up to learn Gemara is receiving a volume of the ArtScroll Schottenstein Talmud Bavli, a gift from the Mesorah Heritage Foundation in memory of HaRav Dovid Feinstein zt"l.
"For Shuvu students from completely secular homes, this is the first time they've ever had a Gemara in their house," observed Shuvu director Rabbi Chaim Michoel Gutterman.  "By giving them a whole volume, we're able to bring into their homes not only the two blatt they're learning for the project, but rather 25 to 30 blatt, hoping they'll go through the rest of the volume. The boys' excitement at having a Gemara to call their very own is beyond belief."
The notion that men, women and children who didn't know the alef beis of Yiddishkeit when they started with Shuvu are now learning the entire Torah from start to finish, is one that seems very appropriate to Shuvu co-chairman, Reb Avrohom Biderman.
"Shuvu really is a historic project and we wanted to mark its 30th anniversary in a unique and historic way," said Reb Biderman.  "It really had to be a tribute to Rav Pam zt"l and to the entire Shuvu network.
Mission:Siyum will culminate with a grand siyum on March 14th, Rosh Chodesh Nisan.  Rabbi Mordechai Eisenberg, who is spearheading Mission:Siyum, urged men, women and children in the United States and Europe to sign up for the project, one that will have an indelible impact on Shuvu students in Israel.
"These are children who come from homes where Torah was lost in their family for generations," said Rabbi Eisenberg.  "They're back now and they're learning. You can partner with them and show your support by learning alongside them."
Find out more about Mission:Siyum online at www.MissionSiyum.org