Fly Between NYC (EWR, JFK) & Miami (MIA, FLL) For Only $63.90 – $72.90 Each Way on United or Jet Blue
February 6, 2023
Comments Off

on Fly Between NYC (EWR, JFK) & Miami (MIA, FLL) For Only $63.90 – $72.90 Each Way on United or Jet Blue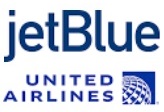 UPDATE: Dead!
______________
Fly from NYC (EWR or JFK) to Miami (MIA or FLL) for only $63.90 – $72.90 on United or Jet Blue (availability varies by date)
These are Basic Economy / Basic Blue tickets which don't include carry-on luggage or seat selection, you can upgrade to Economy / Blue tickets.
Search one way flights – Each way separately to find these date easier!
Click here to book with Expedia
NEWARK
EWR – FLL
FEB – 21, 23, 25, 26, 27, 28
MAR – 1, 4, 6, 7, 8, 13, 14 15, 19, 22, 27, 28, 29
APR – 11, 12, 13, 16, 17, 18, 19, 20, 21, 22, 23, 24, 25, 26, 29, 31
MAY – 1, 2, 3, 6, 8, 9, 10, 11, 14, 1,5, 16, 1, 7 19, 20, 21, 22, 223, 24, 27, 30
FLL – EWR

FEB – 22
MAR – 2,3, 4, 7, 8, 9, 11, 15, 16, 21, 22, 23, 24, 25, 29, 30, 31
APR – 5, 6, 11, 19, 20, 21, 22, 25, 26, 27, 29
MAY – 2, 3, 4, 5, 6, 11, 12, 16, 17, 18, 19, 23, 24
EWR – MIA
FEB – 21, 22, 25, 26, 27, 28
MAR – 1, 4, 6, 7, 13, 14, 20, 21, 27, 28
APR – 11, 12, 15, 16, 17, 18 ,19, 21, 22, 23, 24, 25, 29
MAY – 1, 2, 3, 6, 8, 9, 13, 16, 17, 22, 23, 28, 30, 31
MIA – EWR

FEB – 22
MAR – 2,3, 19, 23, 24, 29, 30
APR – 20, 21, 22, 27
MAY – 5, 6, 11, 17, 18, 24
JFK
JFK- FLL
FEB – 28,
MAR – 1, 7, 8, 14, 15, 21, 22, 28, 29
APR – 11, 12, 18, 19, 25,26
FLL – JFK
MAR – 7, 8, 14, 15, 20, 22, 25, 26
APR – 4, 5, 11, 12, 19, 25, 26
JFK- MIA
FEB – 22, 28,
MAR – 1, 7, 8, 14, 15, 21, 28, 29
MIA – JFK
FEB – 22
MAR – 1, 7, 8, 14, 15, 21, 22, 28, 29
APR – 4, 5
Click here to book with Expedia