NutriChef Stainless Steel Cookware Stockpot – 20 Quart Only $69.99
March 13, 2023
Comments Off

on NutriChef Stainless Steel Cookware Stockpot – 20 Quart Only $69.99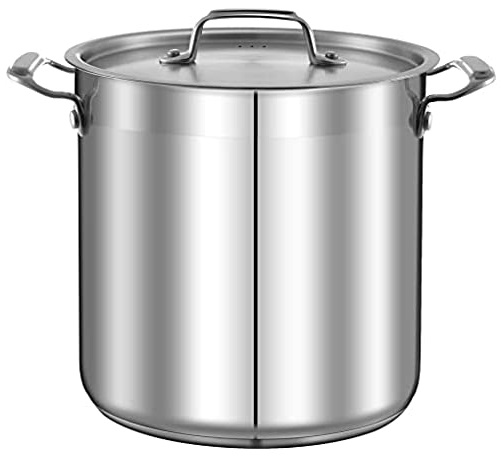 Woot has the NutriChef Stainless Steel Cookware Stockpot – 20 Quart for only $69.99 (compare on Amazon)!
HIGH QUALITY MATERIAL: Made with quality stainless steel, you can be sure of this product's longevity in your household. It also features an 18/8 non-reactive stainless steel interior for superior performance and also includes strong riveted handles
WIDE STAINLESS STEEL STOCKPOT: We can guarantee you that our cookware is a long-lasting product with this stainless stockpot is made of stainless steel that has been refined t for a classic look, a self-basting lid keeps the food warm
COOKTOP COMPATIBILITY: This stainless steel cookware stockpot is compatible with gas, induction, and ceramic, perfect for even the most seasoned cooks. You can also use this as your soup pot, boiling pot
PERFECT DESIGN: With the design of our pot, you get an elegant appeal as well as a comfortable cooking experience with a mirror-polished appearance and also a heat-retaining and moisture-proof steel pot cover with enlarged stainless steel
KITCHENWARE WITH MULTIPLE PURPOSES: One of our pots can be very useful because it can be used as a stock pot. It does not require a stove and is compatible with a wide range of radiant heat. It can be matched with a wide range of stoves
Amazon Prime Members get Free shipping, when choose "login with Amazon" when checking out.
NutriChef Stainless Steel Cookware Stockpot – 20 Quart