8-Pack BIC Round Stic Ballpoint Pens Only 1¢ + Free Shipping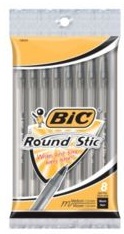 UPDATE: Sold Out!!!
Quill.com has this 8-pack of BIC Round Stic Ballpoint pens for only 1¢ + free shipping as todays Extreme Offer. + FREE shipping I'm guessing these won't last long, so hurry and snag one while you can!
Right now its working even if you don't spend an additional $15 as youi can see in the image below 2¢ for 2 packs of pens.