Amex Sync On Twitter: Kindle Fire HD, 16 GB, 7″ Only $149.99
February 13, 2013
Comments Off

on Amex Sync On Twitter: Kindle Fire HD, 16 GB, 7″ Only $149.99
Since last March American Express has offered great offers when you tweet #hashtags. American Express has added a new feature and is now offering a new social commerce experience that turns Twitter #hashtags into purchases in a unique and seamless way.
American Express Cardmembers can now get some great offers on products with Amex Sync On Twitter, like the deal I posted Monday (its nolonger available) to get a$25 Amex gift card for just $15.
If you already synced you Amex card with Twitter, Amex will prompt you to add a few more details, including their billing address, for product shipment to use this new.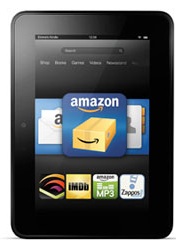 Amex Sync On Twitter is now offering a Kindle Fire HD, 16 GB, 7″ for only $149.99
1) (If you have not yet synced a American Express credit card to you account you can do so by clicking here.)
2) Click here to go to offer & Tweet using #BuyKindleFireHD to add this offer to your synced American Express Card.
3) (If its your first time ordering with Within a few minutes you will receive a response message with a link to enter your billing address to see the response click @Connect on top of your Twitter page then click on "Mentions" tab).
4) Within a few minutes Check your Mentions tab in the Twitter @ Connect page for a response [email protected] with your confirmation #hashtag. And Tweet the confirmation #hashtag within 15 minutes to complete purchase.