Stock Up On Gold Toe Metropolitan Socks At This Low Price – Perfect for Pesach, Summer & All Year Round
April 8, 2014
Comments Off

on Stock Up On Gold Toe Metropolitan Socks At This Low Price – Perfect for Pesach, Summer & All Year Round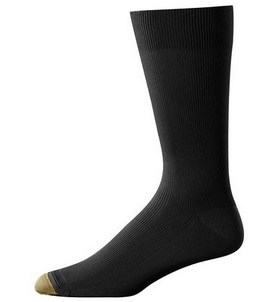 This is a paid advertisement:
Stock up on Gold Toe Metropolitan socks with at this low price! Save close to 30% when you purchase these socks by the dozen. Get 12pairs for just $47.98 + Free shipping, that makes it only $12 for a three pack (the regular price for a three pack is $17).
When buying the socks by the dozen or 6 packs you will also receive free premium laundry sock clips as well.
These socks fit shoe sizes 7-12 and feature a light texturized feel and a comfortable fit in dress shoes. Gold Toe Metropolitan socks have a unique ribbed design that provide for stay-up comfort. This dress sock is ultra-smooth and ultra-comfortable, with a comfort fit heel and reinforced toe – a wardrobe staple for business and dress attire. Be perfectly outfitted for Yom Tov, the summer or any time!
Click here for a 12 pack of socks.
You can also choose a 6-pack of Gold Toe Metropolitan socks priced at just $26.97. Get free shipping on orders of $35 or more or get free shipping with Amazon Prime or Mom (you can sign up for free).