Philips – Alarm Clock Radio with iPod and iPhone Dock for only $49.99
November 22, 2011
Comments Off

on Philips – Alarm Clock Radio with iPod and iPhone Dock for only $49.99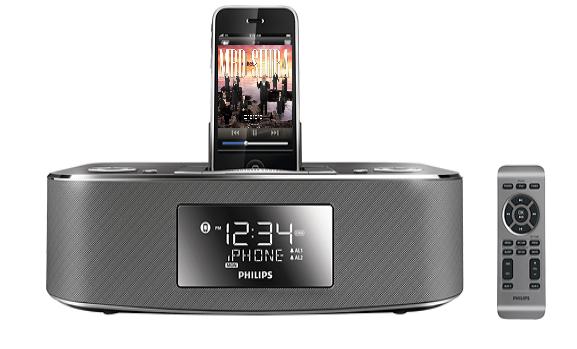 Wake up to your favorite music with this alarm clock radio that features a dual alarm feature, so you can set different alarm times to suit your needs. The Apple iPod and iPhone dock allows you to charge your device and play music simultaneously.
Best Buy is now offering this alarm clock at 50% off, for a low price of $49.99 (compare to $99.99 elsewhere). Plus everything ships free from BestBuy.com
Product Features
10W RMS system power
Delivers powerful audio.
Compatible with select Apple iPod and iPhone models
Including Apple iPod classic, iPod mini, 1st-, 2nd-, 3rd-, 4th-, 5th- and 6th-generation iPod nano, 1st-, 2nd- and 4th-generation iPod touch and 5th-generation iPod.
Also compatible with Apple iPhone, iPhone 3G and iPhone 3GS.
MP3 link
For portable music playback.
Digital FM radio
With 20 station presets for listening to your favorite radio stations.
Gentle wake-up volume
Slowly increases the alarm volume for a pleasant wake-up call.
Dual alarm
Allows 2 alarm configurations to be set at different times.
Digital sound control
Lets you select from jazz, rock, pop and class preset controls, so you can optimize the frequency ranges for different musical styles.
Dynamic Bass Boost technology
Delivers consistent sound at low volume levels.