SwagBucks: $5 Walmart & Target Gift Card Only 450 Swagbucks (Reg. 500 Swagbucks)
August 1, 2013
Comments Off

on SwagBucks: $5 Walmart & Target Gift Card Only 450 Swagbucks (Reg. 500 Swagbucks)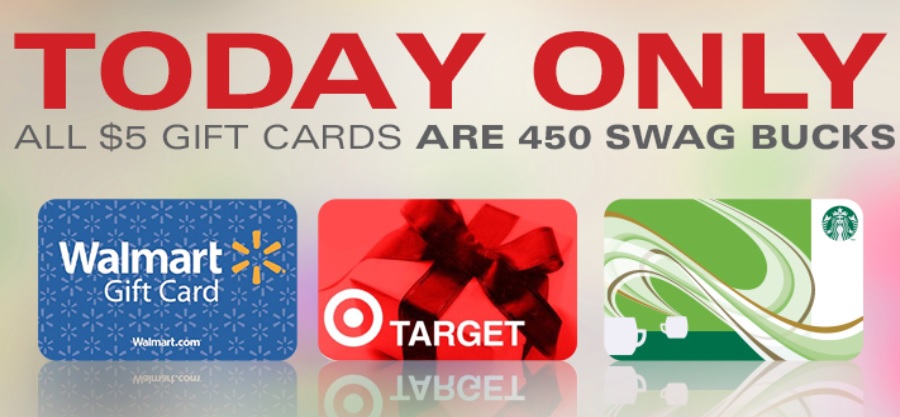 Today only, Swagbucks is offering a $5 Walmart, Target or Starbucks gift card for 450 Swagbucks points (reg 500 Swagbucks).
I usually redeem my Swagbucks for $5 Amazon gift cards, since they are regularly priced at only 450 Swagbucks so its the best value, but since I do much of my local shopping at Target. I will take advantage of this offer!
Not sure how Swagbucks works? Swagbucks is a search engine powered by Google, except unlike Google you can earn swagbucks for just searching the internet. If your searching the internet anyway, why not use a search engine that pays you!
Swagbucks are awarded randomly for just using Swagbucks as your search engine, there are other ways to earn Swagbucks too.
If you are new to Swagbucks you can add code: GetGiftCards when you sign up, to get started with 50 Swagbucks in your account. You add the code on the first page where you are signing up, click "I have a sign up code (optional)" and enter the code into the box.