This Weeks Kosher ShopRite Deals (Week Of 6/9)
June 12, 2013
Comments Off

on This Weeks Kosher ShopRite Deals (Week Of 6/9)
These are the prices at my local ShopRite store and all coupons 99¢ and under are doubled in these deals because all coupons (or else stating do not double) 99¢ and under double in Shop-Rite except in the city!!!
There arent really any major deals this wee but if you are heading to Shop Rite here are some deals you might be interested in.
Multi Grain Cheerios – $1.88
Use 75¢ off Multi Grain Cheerios cereal Printable Coupon
38¢ after coupon
Cookie Crisp Cereal – $1.88
Use $1 Off 2 Cookie Crisp Cereal Printable Coupon
And Use 50¢ Cookie Crisp Cereal Saving Star eCoupon/Rebate
And Use 50¢ Cookie Crisp Cereal ShopRite eCoupon
88¢ each after coupon, ShopRite ecoupon and SavingStar ecoupon/rebate
NOTE: For the Cookie Crisp Cereal you will be using three offers, a printable coupon, a ShopRite ecoupon and SavingStar ecoupon/rebate. You have to first load the SavingStar coupon to your card and then the ShopRite coupon, because if you do it the other way around SavingStar will not let the coupon load to your card as they use the same system! The way I said to do it has worked in the past so you should not have a problem.
Dr. Pepper 2 liter – 2 For $2
Buy 2 Dr. Pepper 10 Bottles  For $2
Use Buy One Get One Free Dr. Pepper 10 Printable Coupon
50¢ after coupon
Joy Cones – 99¢
Use 55¢ Joy Cones Printable Coupon
Free after coupon
Head & Shoulders Shampoo or Conditioner – $4.88
Use $2 Head & Shoulders Coupon (P&G 6/2/13)
And Use $2 Head & Shoulders ShopRite eCoupon
88¢ after coupon & ecoupon
Angel Soft double Roll 6 pack – $3.99
Use 55¢ Angel Soft Printable Coupon
$2.89 after coupon
Spend $75 Get A $25 Gas Gift Card Offer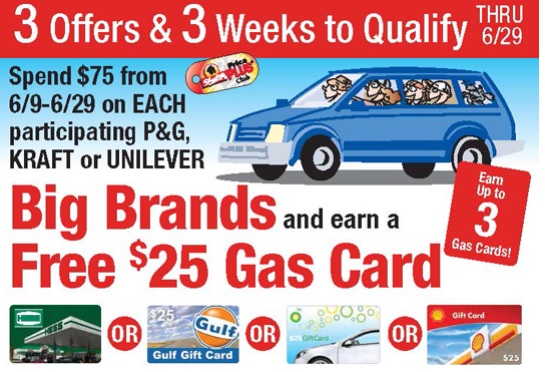 There is a new offer that started this week and will run through June 29th for a $25 gas gift card (Shell, BP and others) when you spend $75 in P&G, Kraft and Unilever.
Its limit 1 offer per manufacturer for the three week period and you cant mix you total between the brands as you must spend the required amount from each manufacturer separately.
The registers will automatically keep a running total of your eligible purchases during the three week qualifying period. Look for your free gas certificate printed at the bottom of your register receipt when you qualify. Redeem your certificate at the register on your next shopping trip. Simply pick up your $25 gas card at our gift card display and present to cashier for activation by Saturday, July 13, 2013.