Three 18 Or 16 Packs Of K-Cups (Many Flavors Including Starbucks) Only 16.07 + Free shipping For Kohls Card Holders (From Just 28¢ Each)!!!!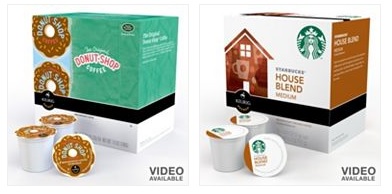 If you have a Kohls Card you can get THREE – 18 or 16 packs of K-Cups (depending on the brand) for just $16.07 + Free shipping!
These packs are priced at $10.99 each and with the following coupon codes you can grab a great deal. This means you will be getting K-Cups for just 28¢ to 33¢ each!
You will first have to enter your Kohls Card number and info and then enter the following codes.
Save $10 off $25 with coupon code: VETSDAY10
Save 30% off with coupon code: PIES30 (only for Kohls card)

Get Free shipping on all orders with coupon code: FREEMVC (only for Kohls card)
(Non Kohls Card users can use coupon code: THANKS746 for 15% off)