December 12, 2017 at 11:00 amCategory:ADVERTISEMENT
PAID ADVERTISEMENT
This post will be on the top of the page throughout the day, new posts will be posted below.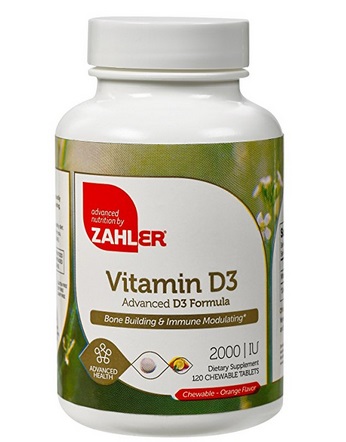 The Zahler VITAMIN D3 CHEWABLE 2000IU, 120 Great Tasting Orange flavored Tablets is priced at $11.67 on Amazon, plus add coupon code: KBD3CHEW at checkout, to bring the total to just $8.75!
Kosher Pareve – Under the supervision of R' S. Stern (the Debraciner Rav), and the OU.
ABOUT: Zahler's Chewable Vitamin D3 2000IU is a crucial nutrient for overall health, specifically maintaining strong muscles, bones, teeth and Immune system

BENEFITS: Easy to take in a great tasting orange flavor chewable tablet form providing all the benefits of vitamin D without the risk of unprotected exposure to UVB rays

MAXIMUM ABSORPTION: Millions of individuals are deficient in this life-sustaining vitamin, Zahler's Chewable vitamin D provides optimal potency and absorption

SAFE NATURAL AND EFFECTIVE: All natural and great tasting supplement providing doses of this critical vitamin, promoting healthier bodies.

MADE IN THE USA: Manufactured and bottled in a state of art GMP certified facility
Zahler VITAMIN D3 CHEWABLE 2000IU, An All-Natural Supplement Targeting Vitamin D Deficiencies, Certified Kosher, 120 Great Tasting Orange flavored Tablets
Note: The price is accurate as of the time of posting, but Amazon's prices are always changing, so make sure to check the price shown on Amazon when you are checking out, as that will be the price you are charged!