No Comments
August 24, 2016 at 10:30 amCategory:Uncategorized
PAID ADVERTISEMENT
This post will be on the top of the page throughout the day, new posts will be posted below.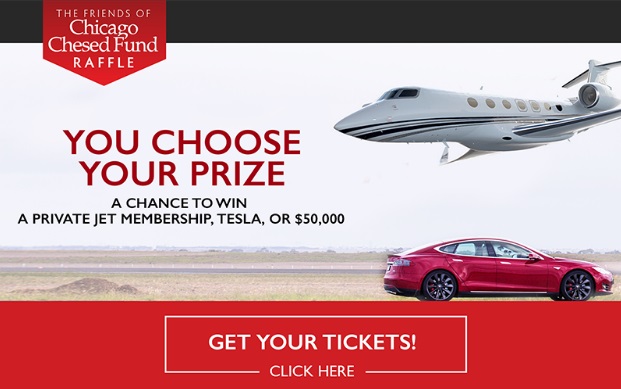 In less than 2 weeks the Chicago Chesed Fund Is raffling the ultimate travel luxury in the sky, your own Private Jet Airfare Of $65,000 to the already incredible prizes to choose! Imagine that, fly anywhere anytime. Or the highly anticipated, Tesla model S ,3 ,or X valued at $83,000, the all-electric luxury sedan of your dreams! Or $50,000 in cash
The drawing will be held on Labor Day 9.5.16. But hurry: A maximum of 3,999 tickets will be sold, so your chances of winning are increased! Which also means YOU HAD BETTER ENTER NOW!
The more tickets bought, the better your chances are. Interested participants can find out more information or enter on this page.
Joining the raffle gives you the chance to own a dream car or plane, but more importantly, it earns you a share in the foundation's vital mission: to help local families in need with discretion, dignity, and respect.
*Winner of the raffle, which will be drawn on Labor Day (9.5.16), will be presented with the choice of either a brand new Tesla Model S, Tesla Model 3 or Tesla Model X, valued at up to $83,000, or $65,000 of Private Jet Airfare. Alternately, winner can choose to receive $50,000 cash. Terms and conditions apply. See website for details.