December 13, 2018 at 2:04 pmCategory:ADVERTISEMENT
PAID ADVERTISEMENT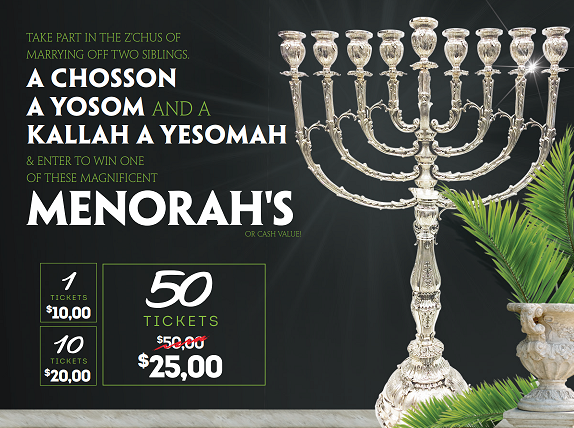 Raffle Extended – Another $25,000.00 needed for these the Yesumim!

Special Offer 50 Chances for ONLY $25!!!
Imagine a Kalla the night before her engagement, and then her mother suddenly passes away. This scenario is what happened a week before Rosh Hashana, instead of a Mazel Tov there was a Levaya!
Help the Kallah Donate NOW and win MAGENIFICENT MENORAH

The father is a tremendous masmid and oved hashem was never involved with parnassa. The mother was the one that brought in some source of income. The next child a Boy got engaged right after. We need to cover 2 weddings plus establish a Keren Yesomim. 

Please donate generously and in this Zchus may you never be on the receiving end always on the giving end, Tizke Lmitzvos!
Click here to donate NOW and win MAGENIFICENT MENORAH or Call 718-930-1648