Exclusive For KB Readers – Buy $75 In Raffle Tickets To The PHD Auction And Get A $36 Artscroll Gift Card!
March 18, 2019
Comments Off

on Exclusive For KB Readers – Buy $75 In Raffle Tickets To The PHD Auction And Get A $36 Artscroll Gift Card!
PAID ADVERTISEMENT
This post will be on the top of the page throughout the day, new posts will be posted below.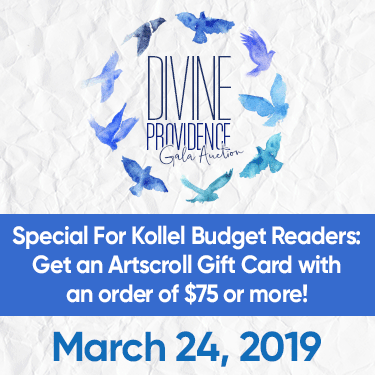 TICKETS ON SALE NOW! GREAT PRIZES STARTING AT JUST $5!
Support Torah Education for all children!
During the winter of 1636, Roger Williams was banished from his adopted home of Salem, Massachusetts. He fled southeast, and aided by a local Native American tribe, found refuge along the banks of the Seekonk River. In recognition of the Divine Intervention that led him there, he named his new home "Providence."
Nearly 400 years later, Providence continues to host a special place, a home of Divine Intervention. That place in Providence Hebrew Day School/New England Academy of Torah. For more than 70 years, PHDS/NEAT has been providing a Torah-true education for Jewish children from throughout Rhode Island and Southeastern Massachusetts, regardless of level of religious observance, denominational affiliation, or ability to pay.
NEAT, our girls' high school division, serves not only local students, but also girls from the Tri-State area. These teens often arrive in Providence after not experiencing success in their local Bais Yaakovs. Our small size, warm atmosphere, and tracked classes allow students to grow and develop at their own pace, while building strong connections with mentors and teachers.
Proceeds from our Gala Auction go to our School Scholarship Fund, to ensure no child is turned away from an authentic Torah education because of costs. Partner with us as we disseminate Torah to all children throughout Southern New England!
We are currently running a special for Kollel Budget readers:
Purchase $75 worth of tickets and receive a $36 Artscroll gift card!
Purchase $100 worth of tickets and receive a $50 Artscroll gift card!
These cards make will make a perfect treat for yourself, your spouse, or your Pesach host!
HURRY! This offer ends Tuesday evening, March 19, 11:59pm EST!
No code needed, just send an email using the email address used when purchasing your raffle tickets to [email protected] with your mailing address to receive you gift card (U.S. addresses only).
Click here to enter to enter now!