So Every Child Can Succeed
June 18, 2019
Comments Off

on So Every Child Can Succeed
PAID ADVERTISEMENT
This post will be on the top of the page throughout the day, new posts will be posted below.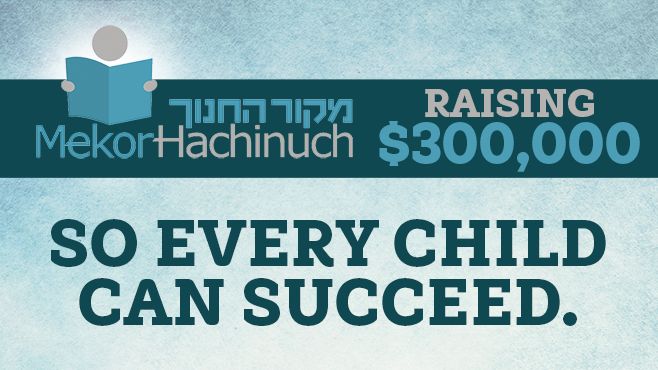 We have an achrayus as a community to help children build a strong future. And now, WE have the power to turn that possibility into reality!
Together, we will further our empowering, dynamic and individualized learning environment within our schools, enabling all children to achieve their goals and thrive.
ABOUT THIS CAMPAIGN
Right now we have the opportunity to ensure that every child can succeed academically, socially and emotionally!
From Monday, June 17 at 2 PM until Tuesday, June 18th at 11PM, your gift to Mekor Hachinuch will be doubled.This means that every dollar becomes two dollars!
ABOUT MEKOR HACHINUCH
Mekor Hachinuch was born from the philosophy of chanoch lnaar al pi darko, teaching each child—and the whole child—in the way he or she learns best.
Today, our team of educators and therapists work within more than 15 educational institutions throughout the Lakewood community, creating a unique educational experience with the goal of helping students reach their specific benchmarks and be mainstreamed with their class.
In nurturing a warm and supportive environment, we provide the framework for academic and personal growth within the classroom—and beyond.
Click here to help us, so every child can succeed