Help Bein Ish Ubein Uchiv Give Families Facing Critical Illness A Ray Of Light!
January 12, 2020
Comments Off

on Help Bein Ish Ubein Uchiv Give Families Facing Critical Illness A Ray Of Light!
PAID ADVERTISEMENT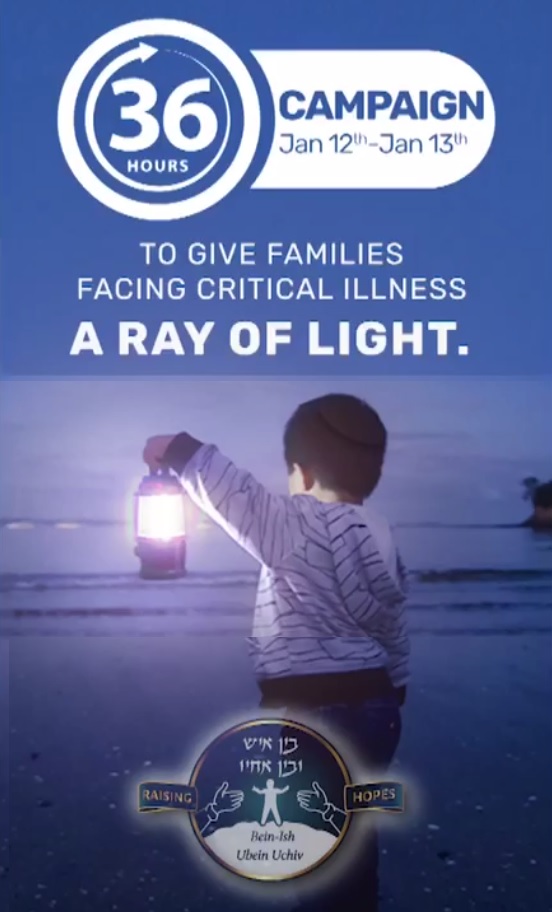 For 25 years, Bein Ish Ubein Uchiv has been creating smiles in the bleak corridors of hospitals. Where families look on fraught with fear, Bein Ish wraps over 200 care packages weekly, where patients face excruciating procedures, Bein Ish finds entertainers to inspire joy, where parents are sick with worry, Bein ish coordinates support groups to ease the loneliness.
Bein Ish Ubein Uchiv believes that just like every medical case is unique, so should their support be. With each patient, coordinators develop a unique support plan that will work for that specific patient and their families. While one family needs to be put up at one of their 6 hospital apartments, another might need daily dinners. While one family needs new clothing for the season, yet another needs babysitting help.
But what they all need is friendship and support. Hence the founding of the annual massive Shabbathon that costs close to a half a million dollars annually. Every year, the hotel transforms into a dreamland where patients and their families are treated to every imaginable entertainment and indulgence. From world famous musicians to makeup artists, these families forget their worries for a few short days.
As the Shabbaton draws closer, Bein Ish Ubein Uchiv needs your help to Raise Hopes and Funds to get this Shabbos off the ground. With every dollar that you donate in the next 36 hours, you will be changing darkness to light, despair to hope- and don't forget your donation will be matched!
Please spread kindness, spread awareness and help us spread smiles.
Click here to donate now and give families facing critical illness a ray of light!