Historic Shabbos Maamad Launches Ticket Reservations!
March 15, 2023
Comments Off

on Historic Shabbos Maamad Launches Ticket Reservations!
PAID ADVERTISEMENT
This post will be on the top of the page throughout the day, new posts will be posted below.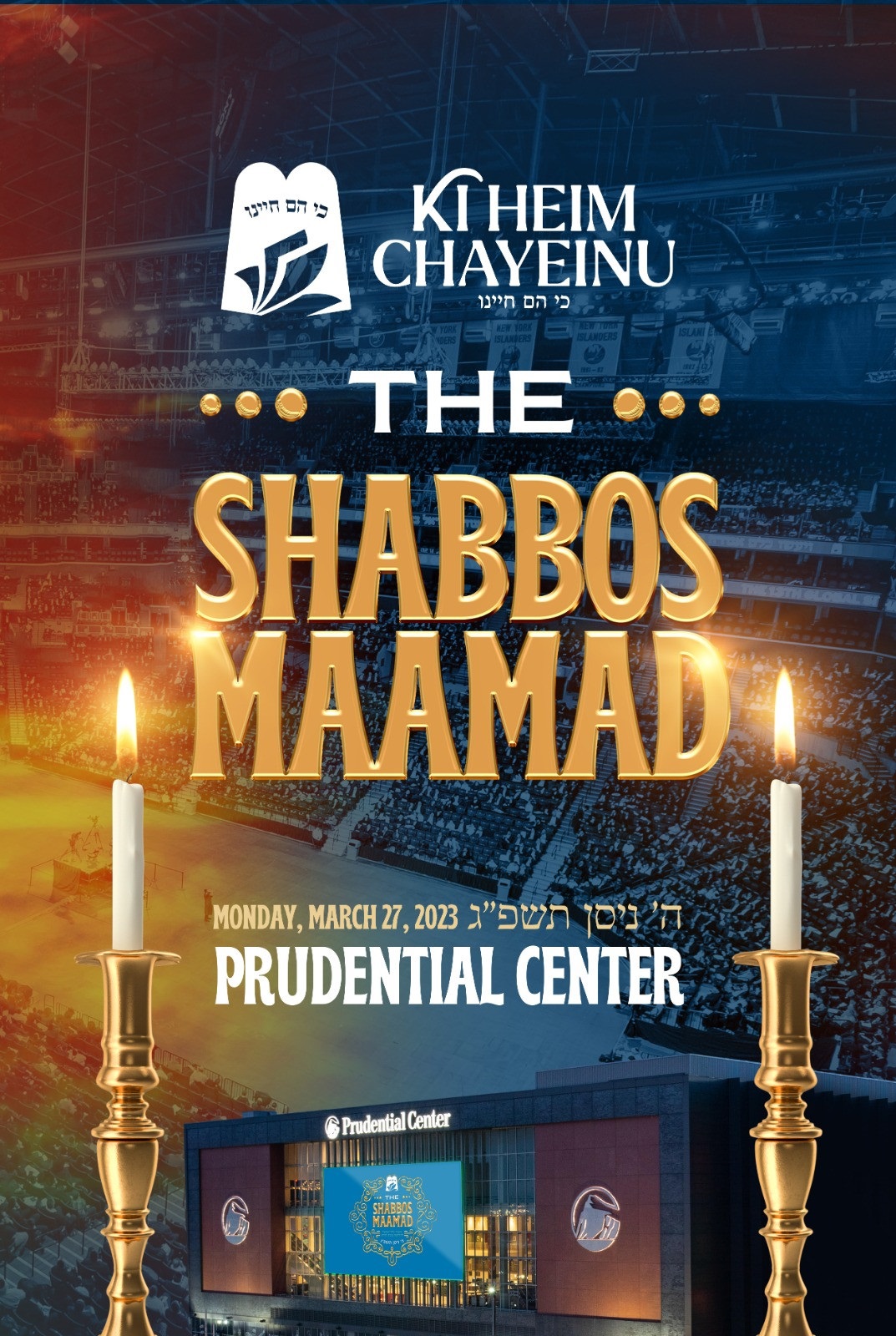 On March 27, 2023, over 20,000 people will gather at Prudential Center for the inaugural Shabbos Maamad event.
The Shabbos Maamad event will be a maamad of Klal Yisroel celebrating Shabbos. Shabbos was given as a gift to Klal Yisroel at Har Sinai. Chazal tells us that when Hashem gave Moshe the mitzvah of Shabbos to give over to the yidden, He said "Lech Vehodiem"- Go and tell them. Shabbos needed to be explained to the yidden because it is such a precious gift, and without hearing about its depth we wouldn't understand how to appreciate it properly. At the event, participants will be uplifted and inspired through the Shabbos Maamad experience to deepen their appreciation for the gift that is Shabbos, and to help each person understand just how tremendous this gift is.
The Maamad will consist of Divrei Chizuk from Gedolei Yisroel, as well as inspirational speakers, stories and music. The crowd will fabreng and dance together with the flavors of a Shabbos tish, developing  a greater appreciation for Kedushas Shabbos. All participants will walk away with true excitement and anticipation to experience Shabbos on a higher level.
In recent history, Klal Yisroel has seen large scale events propel important issues to the forefront of our community's consciousness. Hundreds of thousands learn Daf Yomi and more join every day as a result of the Siyumim. Adirei Torah put yungaleit on a pedestal by helping us recognize how those who learn torah lishma are our true heroes. The Nekadesh event at Citifield inspired thousands of people to live the life of kedusha. Shabbos is a vital part of yiddishkeit that happens each and every week. It is the yesod of our emunah, and thus needs to be on a pedestal as well. Under the guidance of Daas Torah, the organizers of this event are seeking to inspire people to understand the great depths of penimious of Shabbos in a whole new way.
This event is for everyone who keeps shabbos. Men, women, children; anyone who knows what Shabbos is should come to this event. There are only 20,000 seats and they will sell out, so tickets should be purchased as soon as possible. The organizers hope this is the first of many such events, but it is definitely one you do not want to miss.
The Shabbos Maamad event is happening immediately after the enormously successful Masmidei HaShabbos and Shabbos Malkisa initiative. Over 150 schools participated in the initiative, reaching over 25,000 students and 10,000 families over the six-week curriculum. The program deepened the kids' appreciation of Shabbos, and the Maamad will further build on that inspiration and bring it to a whole new level.
To reserve tickets go to ShabbosMaamad.com. Tickets are being reserved fast, and you do not want to miss out. Be part of history at the first ever Shabbos Maamad event and give yourself and your family the gift of a more meaningful Shabbos