GREAT PESACH PRODUCT – Premium DISPOSABLE MIXING BOWLS | Clear, Reusable Plastic Serving Bowls 2.5 Quart | 80 Ounce Party Bowls [Pack of 12] Only $20.68
March 28, 2023
Comments Off

on GREAT PESACH PRODUCT – Premium DISPOSABLE MIXING BOWLS | Clear, Reusable Plastic Serving Bowls 2.5 Quart | 80 Ounce Party Bowls [Pack of 12] Only $20.68
PAID ADVERTISEMENT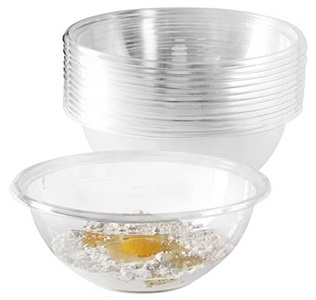 UPDATE: Dead!
______________
Make your Pesach prep easy with the Premium DISPOSABLE MIXING BOWLS | Clear, Reusable Plastic Serving Bowls 2.5 Quart | 80 Ounce Party Bowls [Pack of 12]!
Now marked down to 20.68!
🥣 ARE YOU SURE IT'S DISPOSABLE? Our premium quality disposable mixing bowls are too good to be true. These sleek, clear round bowls hold up to 2.5 quarts of food (that's 80 ounces of side dishes, cake batters, snacks, or pet food!). It's the perfect sized mixing and serving bowl. Fill with your favorite salad ingredients, toss and place in the center of your dinner table. Stuff with chips, popcorn, or muddy-buddies – and it becomes a party bowl! The #1 essential for anyone who hosts often

🥣 PREP SERVE THEN WASH OR TOSS! There's less clean-up when using disposable mixing bowls. Prep your favorite side dish and place it on the table. When the meal's done, wrap up the tablecloth and throw it away – no need to remove the serving bowl! Oh, you want to wash it? Please do! These flexible bowls are durable enough to withstand being bumped or washed in any aggressive way (think angry teenagers on dishwashing duty).

🥣 PLASTIC? IN MY KITCHEN? Attention all you environmentalists out there. Quality Choice Premium Plastic Bowls are made of the highest quality PET materials (polyethylene terephthalate). Disposable salad bowls are environmentally friendly, sustainably sourced, and recyclable. These lightweight serving bowls are food-safe, so use it for all your meal prep needs.

🥣 IT'S TRIED AND TRUE – Join hundreds of busy homemakers who've had their lives made easier by using our disposable plastic mixing bowls. The most popular use? Meal Prep. Combine that chicken marinade, prepare your favorite side or whip up your cake batter. Light enough for lil hands who love to help. These plastic bowls have also been used as snack bowls, party bowls, and to serve pets! (One creative mom used them for tie-dye – the crystal clear bowls are large enough to hold socks and tees!)

🥣 STOCK UP AND SAVE TIME & ENERGY! These disposable mixing and serving bowls are so practical. That's why we offer them in packs of 12. They won't crack, and are reusable yet disposable. So use, re-use, abuse and then chuck it in the bin! Satisfaction's guaranteed, and the price is too good to be true! So, what are you waiting for? Click 'add-to-cart' now and simplify your meal prep. (These bowls have so many uses, you'll wonder why you didn't order more!)
Get free shipping with Amazon Prime (you can try Amazon Prime with a 30-day free trial) or on orders over $25.
Premium DISPOSABLE MIXING BOWLS | Clear, Reusable Plastic Serving Bowls 2.5 Quart | 80 Ounce Party Bowls [Pack of 12]
Note: The price is accurate as of the time of posting, but Amazon's prices are always changing, so make sure to check the price shown on Amazon when you are checking out, as that will be the price you are charged!