American Express: $25 Statement Credit When You Spend $100 At Costco.com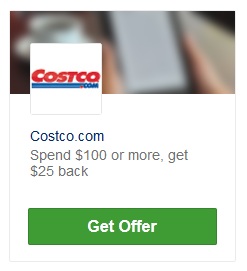 UPDATE: I just wanted to remind you all about this offer and let you know that I already received my $25 statement credit for the purchase of the $100 Costco Cash Card!!!
Spend $100 at Costco.com, get $25 American Express credit.
There is a new offer on the American Express Link, Like, Love Facebook page. Get a $25 statement credit by using your synced American Express credit card to make a single purchase of $100 or more online at Costco.com (NOT in-store). You can buy a $100 Costco Cash Card online and then use that in-store which equals 25% off at Costco!
(If it's you're first time using a Link, Like, Love offer you will have to link your American Express credit card before you start.)
Click here to go to the American Express Link, Like, Love Facebook page and click 'Get Offer"