Check Your Email For A Free $2 Amazon MP3 Credit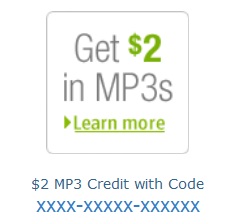 If you are signed up to receive Amazon Mom emails make sure to check your emails for an email titled "Top Deals for Mother's Day" that came this morning. In the email as one of the deals for you, you will find a unique code for a free $2 Amazon MP3 credit (like the photo above) which you can enter here and use it on anything in the Amazon MP3 Store. Credit expires on May 31, 2012.
After you enter your code you can click here to browse Amazon's Music store and choose from many different Jewish songs from singers like Avraham Fried, MBC, YBC, Lipa, Ohad, MBD, Maccabeats and others and get it free with the $2 credit!