Free $25 Restaurant.com eGift Card!!! (Free $25 certificate to Sushi Meshuga (BP), 17 Restaurant and Sushi Bar (Miami) or other restaurants)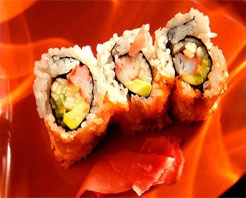 UPDATE: Expired!!!
Get a Free $25 eGift Card to use at Restaurant.com when you text JOY to 78166.
The $25 eGift Card can only be redeemed for full value certificates not the discounted price they always offer. But you can use this offer, to get a free $25 certificate from Kosher restaurants! For example you can get a free $25 Restaurant.com certificate to Sushi Meshuga in Boro Park or 17 Restaurant and Sushi Bar in Miami Beach or you can search for Kosher restaurants in your area!!!
Click here to redeem your $25 eGift Card you receive via text.
NOTE: By sending JOY to 78166 you are signing up to receive text offers from Restaurant.com but you can always text stop to cancel!