Still Available: Free Sample Of Listerine (It Arrived Today And Its A Travel Size Bottle!)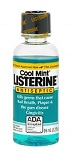 UPDATE: Dead!
UPDATE: I just received my sample in my mailbox and its a Travel size bottle :). Its still available so if you have not yet taken advantage of this great freebie you can still do so now!
Click here to get a free sample (and a $3 coupon) of Listerine mouthwash. Scroll down a bit and click on "Get a Free sample".