Kohls: Step 2 Modern Cook Kitchen With a 26-Pc. Accessory Set Only $44.20 (Reg $129.99)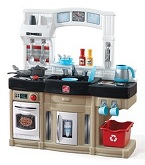 UPDATE: Sold out!
Kohl's has the Step 2 Modern Cook Kitchen with a 26-pc. accessory set marked down to only $52 (reg $129.99).
You can use coupon code: BAND to save 15% to bring the price down to only $44.20.
Get free shipping on orders of $50 or more, so when using the coupon code you'll want to spend another $5.80 to get free shipping (there are many items you can get for example some thing for $6 from this page).
Stover burner features fun lights, sounds, & clicking knobs for more realistic play
Special frying pan & boiling pot activate electronic frying & boiling water sounds
Coffee pot with molded-in coffee maker
Working oven and refrigerator doors & recycling bin
Pass through window play
Ample storage & counter space encourage sharing & interactive play