Modnique: Free $10 Signup Credit + $10 Coupon Code = Free Items!
May 11, 2014
Comments Off

on Modnique: Free $10 Signup Credit + $10 Coupon Code = Free Items!
UPDATE 5/15/14: This is from Modnique Facebook page, though I dont know what took them so long to com up with this.
"Over the weekend, many of you experienced a mistake that we made with our coding, which allowed you to make a purchase combining both your referral credit and a coupon. While we mention in our terms and conditions that you can't combine the two, our mistake allowed this to happen.
We're a young company, and unfortunately we're not in a position to honor the credit AND coupon. However, because this is our mistake, we will happily honor whatever combination of the credit and coupon was used, we will just need to collect shipping for those of you whose order was free.
If you would still like your order, please call or email our customer support team by the end of the day Saturday:
[email protected] or (310) 280-7380″
You win some you lose some!
UPDATE: The $10 coupon code is expired!
Modnique (an online boutique that sells fashion clothing and Beauty items) is offering a free $10 credit when you sign up through this link.
Plus save $10 off your first purchase with coupon code: Modru10 at checkout.
Shipping is $5.99, so that means any purchase of $14.01 or less will be completely free, no credit card needed!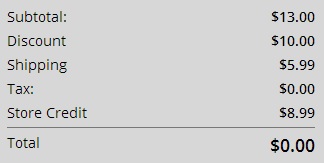 You can find items priced at under $14 in the Institut Karite Paris cream sale or in the women's red tag beauty sale (you'll see these sales on the main page) or thru-out other sales on Modnique.