My Shop Rite Trip = Free Phone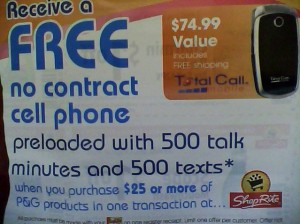 When i went to Shop Rite (Lakewood) to get  the pampers deal, they didn't have the size that i need so i went to the customer service desk to ask if they are going to get any more in, the women behind the counter told me they usually restock at night so tomorrow morning……..  I saw a paper with some Shop Rite coupons (which can be used with manufacturer coupons) and there was a coupon for $1 off pampers big box, so i saved an other buck!!!! Wait it gets even better today when I'm cleaning up for shabbos i realize the other side of the paper i picked up in Shop Rite has an offer for a free cell phone with 500 minutes and 500 texts if you spend $25 of P&G products in one purchase.
So if you are going to spend $25 or more on P&G products in onepurchase with your Shop Rite card at Shop Rite be sure to pick up this form at the customer service desk!