MyHabit: Refer 5 Friends Get A $25 Credit (They Don't Have To Make A Purchase!)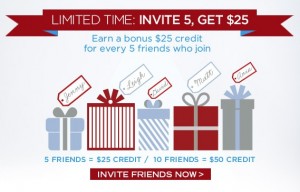 MyHabit.com (a daily boutique store from Amazon) is offering a free $25 credit when you refer 5 friends who are not already MyHabit members accept your invitation to join MyHabit (for a maximum total of $50 referral credits). They do NOT have to make a purchase for you to receive the credit, all they have to do is open an account. Your credit will be delivered via email between Jan. 11 and Jan. 15, 2013.
MyHabit has in the past offered great deals so get your free credits by referring your friends and then get your self a nice deal 🙂
The above link is my referral link but feel free to leave your referral link for others to use in the comments!