Path Mark Triple Coupons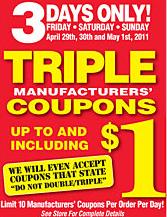 PathMark is offering triple coupons on coupons $1 or less even on coupons that state Do Not Double Or Triple this Friday thru Sunday
THIS OFFER IS LIMITED TO 10 MANUFACTURER COUPONS PER ORDER PER DAY
Coupons will be multiplied up to the selling price of the item. For example, if an item sells for $2.79 and you have a $1.00 coupon, then you will save $2.79, the value of the item, up to FREE. NO CASH BACK.
There is a maximum of four identical coupons per order per customer per day.
Expired coupons are not accepted.
Manufacturer Coupons with a value of $1.01 or more will be redeemed at face value only.
Manufacturer Coupons for "FREE" or "Buy One Get One FREE" items are not eligible for any multiple coupon program.
Coupons from our CouponSource online program do not apply to any multiple programs
Pathmark Store Coupons/Savings Certificates and Catalina Checkout Coupons that state "Store Coupon" do not apply to any multiple coupon programs.