Staples: Free Case Of Copy Paper Deals Whwn You Spend $100 Or (Spend It On Gift Cards)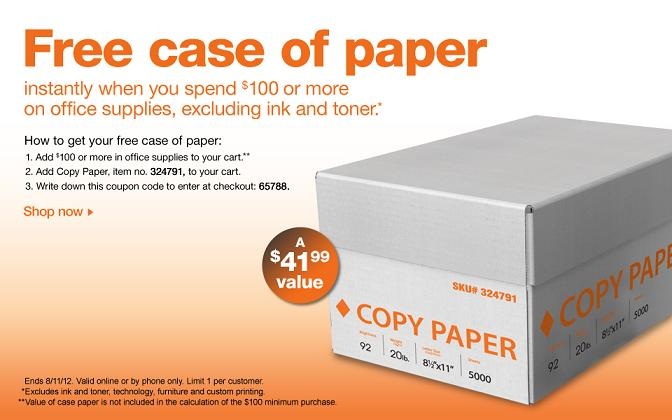 Staples is offering free case of copy paper item #324791 by spending $100 or more on office supplies when you use coupon code: 65788 at checkout (the code will deduct $41.99 in your cart).
 You can do it with a $100 Visa gift card, there is a $6.95 surcharge on the card making it $106.95
Use coupon code: 65788 at checkout.
Total $106.95
Here are 2 things to know
1) You can spend $100 on gift cards and still take advantage of this offer.
2)The coupon code (65788) is also deducting $41.99 when you choose a cheaper brand of paper like (click here to see cheaper paper) these that are priced at $36.99.
So here are two options (they might get cancelled),
Option #1
 You can do it with a $100 Visa gift card, there is a $6.95 surcharge on the card making it $106.95
Add a cheaper paper to your cart – 36.99.
Use coupon code: 65788 at checkout.
Total $101.95
 Option #2
Thanks M