Tiger Direct: Swann 4 Channel D1 DVR Surviellance System Only $79.99 After Mail-In Rebate (Only $64.99 With Amex Offer)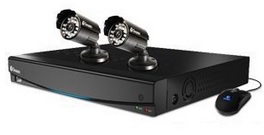 UPDATE: Back in stock and they fixed the rebate info and it now says until 8/7/14!!!
Tiger Direct has the Swann 4 Channel D1 DVR Surviellance System priced at just $279.99 + Free shipping with a $200 mail-in rebate making it only $79 after rebate (sells for $200 from B&H).
You can also check your American Express account for a targeted offer for Spend $50 or more at Tiger Direct by 8/31, get $15 back. So this will be like paying just $64.99!
There is also an offer for $15 off $100 purchase (click here for offer) that can make this only $64.99 (or $49.99 with the Amex offer), but it does say that its not valid with any other offer and I don't know if they'll give you a problem.
4-channel D1 DVR Surviellance System; records footages with up to 700 TVL resolution
2 x 540 TVL Cameras; offers 360° Rotation and a fully weatherproof build quality
Swann TruColor (STC) image sensor; ensures excellent image quality at any lighting condition
500GB HDD; stores tons of captured video clips