Wonka Laffy Taffy 6 Packs Of 18.7-Ounce Packages Only $10.49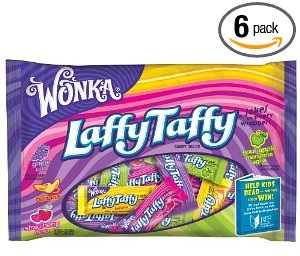 Amazon is offering 6 packs of 18.7-ounce packages of Wonka Laffy Taffy, for only $10.49 and it ships free with Amazon Prime or with a purchase of $25 or more.
I checked online and they are saying that there is about 50 pieces per pound and six of theses packs equal around 7 pounds which should be around 350 taffys making each taffy less then 3¢ a piece. I guess you know whats going to be my Mishloach Manos this year 😉 .