December 25, 2011 at 6:54 pmCategory:Chanukah | GIVEAWAY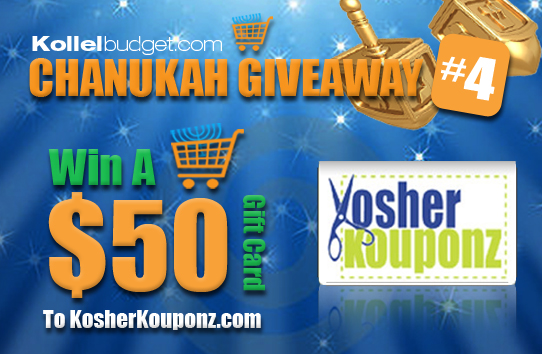 KosherKouponz.com, a Kosher deal a day site that offers discounted deals on kosher restaurants, events, fashion and Judaica stores in NYC, Brooklyn, Queens, 5towns, NJ and L.A and occasionally some national deals.
Some of the great deals KosherKouponz offered in the past are $12.50 for $25 at China Glatt, $16 for $25 at Carlos and Gabby's and national like $99 for DavkaWriter and DavkaWriter Dimensions and Royal challah silicone pan for $15.
You can also click here to check out the great deal KosherKouponz is currently offering at Dougies!
Thanks to KosherKouponz the fourth Chanukah giveaway is – A chance to win a $50 credit to KosherKouponz.
To enter to this giveaway, just leave a comment on this post telling us what stores/deals you would want to see on a kosher deal-a-day site (even if they had it already). When you leave a comment use a name or leave your email address (where it asks for your email address, not in the comment itself) so we can contact the winner.
The winner must be a registered member of KosherKouponz to receive their credit, you can sign up here.
Dont forget you can also enter our other Chanukah giveaways,