Cooler Master Laptop Cooling Pad Free After Rebate + Free Shipping With ShopRunner!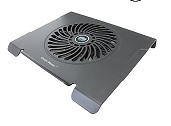 Newegg has this Cooler Master NotePal CMC3 – Laptop Cooling Pad priced at $15.99, plus use coupon code: EMCPAWB96 to bring the price down to $15. Plus there is a $15 mail-in rebate, making it free after rebate.
Plus this item is available for free shipping from ShopRunner! If you are not yet signed up to ShopRunner you can click here and get a free lifetime account if you have an American Express credit card (or you can sign up to a free 30 trial to ShopRunner).