GREAT PRICE – 2 Boxes Of Up & Up Diapers Only $49.98 + $20 Target Gift Card + Free Shipping (Thats Like $29.98)!!!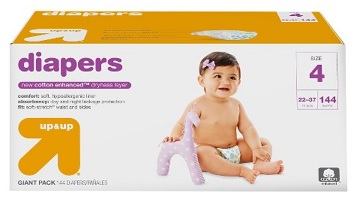 This offer ends at the ens of this week!
For those of you that use Targets brand Up & Up diapers, they are currently on sale for $24.99 (sizes 2 thru 6), plus if you buy 2 boxes you will get a $20 Target gift card automatically added to your cart.
So when you buy 2 boxes, your total is going to be $49.98 + you get a $20 Target gift card, and thats like getting 2 boxes for $29.98 after gift card!
Use your Target RedCard to get an additional 5%!