ENDS TODAY – Giveaway: Win A Copy Of Dairy Made Easy, Leah Schapira & Victoria Dwek's Newest Cookbook!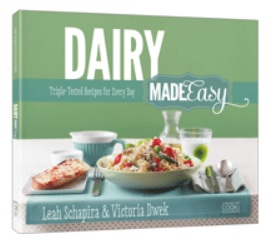 This giveaway is now over,
REMINDER: This giveaway ends today, so if you have not yet entered now is your last chance.
Do you love cheese? Delight in pasta? Do you like creamy desserts?
Leah Schapira and Victoria Dwek, have added a new addition to thier best selling Made Easy series!
Dairy Made Easy will take cooking and baking to a whole new level! You'll learn to customize your quiches and make restaurant-worthy pizzas. You can turn your home into a gourmet cafè when you're enjoying a Coffee Frappe and Chocolate Croissant Rolls (easier to make than you'd ever believe!). Bored of baked ziti for dinner on dairy night? How about a Hot Asian Mushroom Salad and Cajun Creamy Penne? And for dessert, let's try Peanut Butter Crème Brúlèe or – believe it! – The 180-Calorie (or Less) Cheesecake.
As in all the "Made Easy" cookbooks, the recipes are triple-tested, with accessible ingredients and clear, fun-to-follow instructions. Dairy Made Easy also features a Cheese Guide and guides to making some recipes lighter or parve.
Dairy Made Easy is currently available at Artscroll.com
GIVEAWAY
Now to the giveaway,
Artscroll will be providing me with a copy Dairy Made Easy to give to one lucky KollelBudget reader!
Its real easy to enter this giveaway,
Just leave a comment on this post telling me what is your favorite milchig dish!

When leaving a comment make sure you leave your email in the box that asks for it, so I can contact you if you are the winner (your email address will not be published, only I can see it)
You can also get a second entry,
Signup to receive the KollelBudget daily email and leave a second comment on this post that you did so (if you are already signed up just leave a second comment saying so).
To sign up to the KollelBudget daily email enter your email in the box on the top of the right sidebar of this page and click "Submit".
You should receive an email within a few minutes, click the activation link listed in the email to activate your subscription.
This giveaway is for residents of the 48 contiguous US states and will end Monday, May 12th at 11:59PM ET, and  I will randomly pick a winner (with the pick giveaway winner  plugin), Good Luck!